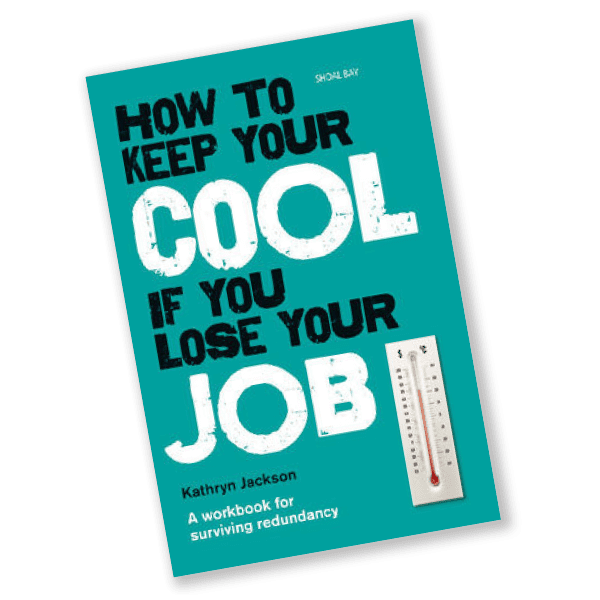 Keep Your Cool if
You Lose Your Job
(Revised Version Coming Soon)
'Downsize', 'Right size', 'Smart size', 'Workforce Reduction', 'Displacement', 'Outplacement', 'Redundancy', 'Restructuring', 'Layoffs'.
No matter what you call it, the end result is the same - the loss of a job.
Originally published in 2009 by Longacre Press, and subsequently Penguin Random House, this book has been written specially to support anybody in New Zealand who is made redundant and doesn't receive outplacement support.
It is currently being updated for a global audience, but is still available from several websites in its existing format.
The workbook was designed as a hands-on guide for anybody fearing job loss as a result of the Global Economic Crisis at that time, and is being updated to reflect the latest workplace challenges.
It is a highly practical workbook designed using a self-coaching approach and is filled with tools, resources and ideas to help you with questions like this:
How can I stay positive and productive?
How will I manage my finances?
Should I consider self-employment or a new career direction?
How can I shine during interviews?
Employment Today: 'this is by far the best [redundancy] handbook I have come across. And from a professional standpoint I whole-heartedly  recommend that every generalist HR practitioner gets a copy for their work bookshelf as a guide to career counselling.'
NZ Lawyer: 'Jackson does a good job of comprehensively covering … the range of considerations that can arise from any redundancy or career change. Along with providing guidance on issues such as learning to embrace change and how to discover what sort of alternate roles or careers could provide personal reward and fulfillment, Jackson also deals with practical concerns such as dealing with both the financial and emotional impacts of you (or a family member) losing a job.'
"In a tough market you need confidence, support and great ideas to keep your career on track — read this book and you'll have taken the vital first step."
Bestselling author of How to get a Job You Love, John Lees