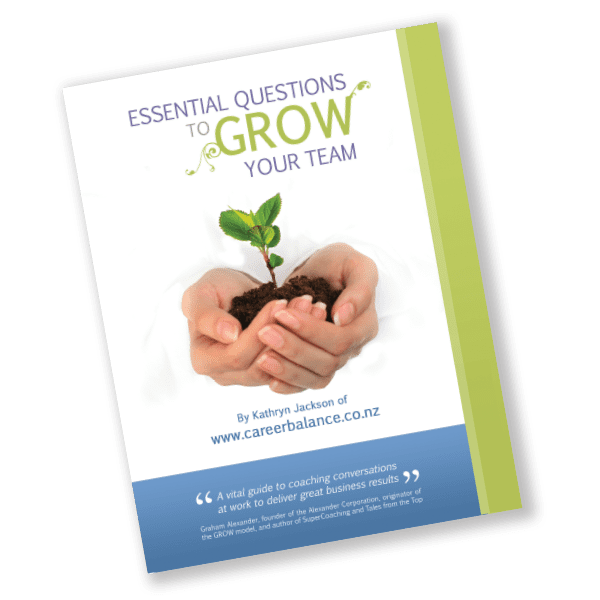 Essential Questions to
GROW Your Team
Essential Questions is a collection of more than twenty Conversation Guides designed to make conversations at work simple.  The materials in the workbook can be used as a framework for better coaching discussions, as a training tool or within teams to encourage deeper thinking and improved problem solving.
"A vital guide to coaching conversations at work to deliver great business results"
Graham Alexander, founder of The Alexander Corporation, originator of the GROW model and author of Tales from the Top
There's no escaping the growth of interest in the power of coaching conversations at work.
No longer just the stuff of track and field, coaching questions are now proving to produce quicker results, increased accountability and (on many occasions) instantaneous personal development for the person being coached.
"Professional accountability, improved work performance, better time management, increased team effectiveness, enriched relationships, greater self-confidence, enhanced communication skills…and even a positive impact on business management."
These are all real benefits, quoted in an ICF study in collaboration with PriceWaterhouse Coopers 2013.
Conversations include: debriefing a project, creating better work-life balance, coaching to embed learning, creating performance objectives, exploring talents and better career discussions.
The workbook regularly receives 4/5-star reviews from industry leaders and has been used by business schools around the world.
By using the coaching questions in this workbook as a foundation for your conversations you will be able to:
Develop a more self sufficient, solutions focused and accountable team at work
Have some of the difficult conversations at work with more confidence
Help your team to get excited, motivated and more engaged at work
Create bigger picture thinking or freshen up ideas in the people you work with
Essential Questions to GROW Your Team has been designed to give you the resources to use coaching questions with everybody in your team more confidently, where you have decided that coaching is appropriate.
You can use the Conversation Guides as a framework to design your own questions, you can use them as a training tool, you can share them in advance and ask for your team to decide what they'd like to talk to you about or you can use them for your own self-coaching (like a reflective thinking framework).
Many of the conversations can take place in 10 minutes or less.
Check out this Free Preview
The Free Preview includes details for a free download of three questions per front page.
To purchase your copy please click your preferred link below or contact me directly for orders of more than 20 copies.
Any employee who wants to have better conversations at work (highlight the questions you wish your boss would ask you, then give them the workbook)
Leaders who want to practice their coaching and have easier conversations with their team
HR or learning professionals searching for a resource to support leaders and encourage more coach like conversations at work
Business schools looking for recommended reading resources to support coaching courses